As part of Learning & Development initiative, Sathguru provides continues learning opportunities to their associates.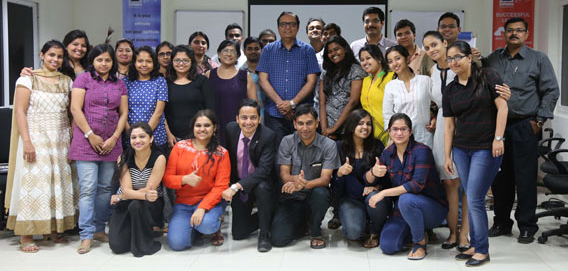 Various advanced professional courses are organized throughout the year, that not only guides them in their core technical area but also help them imbibe the nuances to emerge as successful leaders.
The dawn of the year saw the associates undergoing the prestigious Dale Carnegie Immersion course over a span of three days. It was an enlightening and engaging experience for all. The activities, apart from being thoroughly enjoyable, brought out the best in everyone. An unusual blend of humor and seriousness was the perfect recipe to keep everyone fully engaged over the three days of intense learning. While some polished their inherent skills, others came out of their cocoon and surprised all with their hidden talents. The intense yet exciting course closed with our Director awarding Dale Carnegie certificates to each of the associates who participated in the training.
Speaking on the key imprints of the training, both Dr.Shree Divyya and Dr. Abhishek Joshi from the Healthcare team feel that it has helped them learn how to energize their communication skills to make it more effective. While Boon Linekar and Hina Ansari from the CEE team claim that the training boosted their self-confidence and time management skills, Priyanka Ravala from Life Science Advisory Group believes that the training has helped her learn various ways of approaching clients and making impactful presentations. Poonam Thakur, also from Life Science Advisory Group says, "The seminar taught us how to enhance our interpersonal skills and also ways to come out of our comfort zones and build a rapport."
Sathguru has always provided the best resources to its associates to help them grow and catalyze success. Training sessions like these work as a perfect platform for the associates aiding in their personal and professional growth.